KELLY SEARS / Signaling Techniques
October 13, 2017 – January 26, 2018
The films of Kelly Sears straddle animation, found footage, and speculative fiction. She transforms an extensive trove of source materials, such as first aid handbooks, chronicles of space exploration, presidential and military newsreels, 35 millimeter photography manuals, aerobic and yoga guides, archival films, high school yearbooks, and disaster survival guidebooks, into new instructional and advisory texts that may lead the viewer astray and disoriented. Through these animations, we see glean bits of history that are recognizable but unsteady.
Header image: Pattern For Survival (detail), Kelly Sears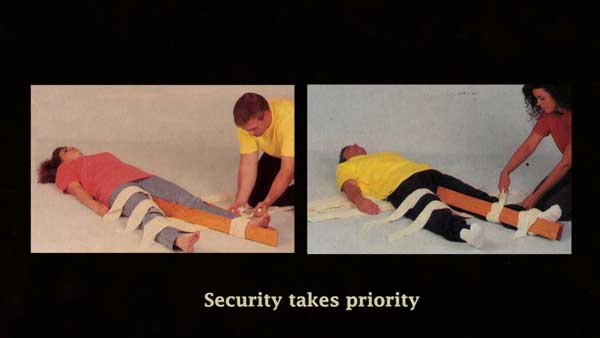 Her animated short films examine the legacy of American expansion and imperialism. Sears uses the images of a previous era and builds connections to present-day histories. Often, postwar imagery is repurposed to respond to contemporary events, such as the ongoing occupation of Iraq, the Patriot Act, environmental disasters, and other consequences of institutional power. She approaches animation as a critical practice; cutting out and collaging is a way to intervene and bring an expanded context to the meaning of these source materials. Each narrative contains historical and social discourses that take fictional turns, becoming uncanny or fantastic as history merges with the fantastic.
About the Artist
Kelly Sears is an experimental animator that cuts up and collages imagery from American culture and politics. Her work draws on documentary and parafictional forms of storytelling, shifting between the official and unconfirmed. Her award-winning films have screened at festivals such as Sundance, South by Southwest, American Film Institute, Los Angeles Film Festival, Off+Camera Film Festival, Poland, Festival International de Films de Femmes de Créteil, France, and Tricky Women in Austria. She's also had retrospective programs of her short work at Anthology Film Archives in NYC, The Museum of Fine Arts, Houston, The Portland Art Museum, and the SF Cinematheque. Sears is currently an Assistant Professor of Film Studies at the University of Colorado, Boulder, where she teaches advanced filmmaking, animation, experimental documentary, and media archeology and is a co-editor for NOW! A Journal of Urgent Praxis. www.kellysears.com