JANE LINDSAY / Sustenance and Time
May 24 – September 29, 2017
Sustenance and Time is a multimedia installation of photographs and video by Jane Lindsay and images from inmates at the Pinal County Sheriff's Office Adult Detention Center. By installing a modified jail cell in the gallery space Lindsay creates an environment that supports the discussion of complex, conflicting and often emotionally charged issues of safety, justice, civil liberties and social responsibility, and urges the viewer to reconsider the roll of the family and civil society as well as definitions of victim and perpetrator.
Header image: The Cell, Jane Lindsay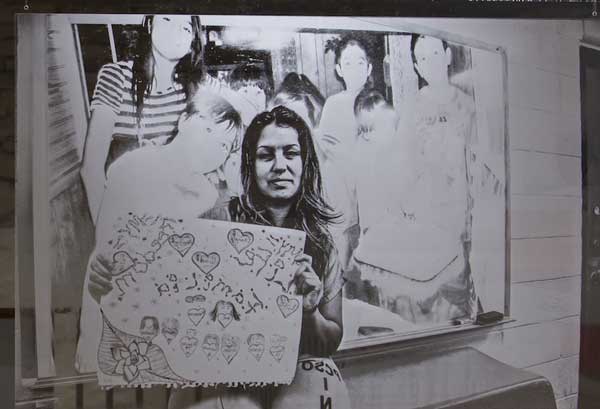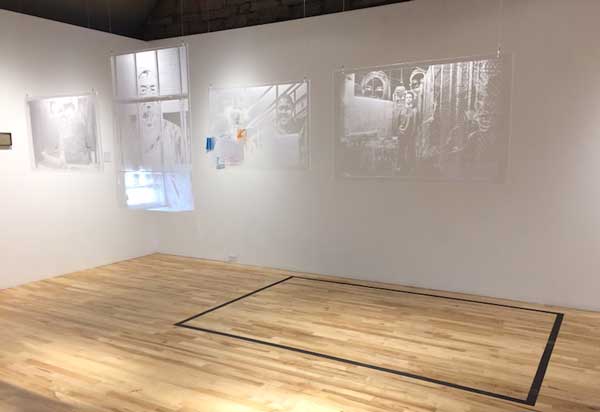 Lindsay worked as a Licensed Professional Counselor for 15 years in Texas. Her clients included victims and people who were on parole and probation, and Lindsay experienced the successes and failures of the system. Lindsay's projects highlight rehabilitation through self-actualization involving education, mutual respect and responsibility as defined in Maslow's Hierarchy of Needs.
Lindsay's professional and personal background motivates her investigation of rehabilitation. She experienced the devastating effects of crime first hand when one of her children was violently assaulted. Her family was faced with the physical, mental and emotional trauma of the attack itself, but also the fear and judgment of their community in addition to the judicial process that purports to hand down justice. Lindsay found the conviction of the assailant gave her no peace or sense of security and failed to address the underlying issues that she believes to be at the core of criminal behavior.
Through an artistic practice that includes direct engagement with inmates, their families and detention officers within a secure facility, Lindsay has found healing and a sense of purpose. Lindsay says, "By involving inmates and their families in self-actualization through creativity, society is directly influenced, the outside world becoming a safer place for everyone. The inclusive nature of the project promotes agency of the prisoners, presenting them not just as subjects, but also as direct contributors to the telling of their story."
About the Artist
Jane Lindsay is a photographer and a Forensic Mental Health Case Worker. She grew up in a family of ranchers in rural West Texas. As a child, growing up in the rural south, Lindsay was influenced by story telling rather than media and she uses story in her visual work. Lindsay has earned three masters degrees: Clinical Psychology, Art Education, and finally an MFA, from Arizona State University, with an emphasis in photography. Lindsay uses story, photography, and video to make work that investigates social justice issues and the human condition.
Lindsay received the Arizona Video Award for her video Dan's Big Find and the Nathan Cummings award in 2012 for her Gems. The Gems consisted of 2000 tiny tintype images set in bottle caps made from mug shots. Some of her publications include, Dallas Morning News, Arizona Republic, Phoenix New Times, Lens Culture, American Photo, Elizabeth Avedon Blog, and Pete Brook, Prison Photography. Lindsay has exhibited her work through the US and in Europe, including The Center for Photography in Carmel, CA, Photoville in Brooklyn, New York, Art Intersection in Gilbert, Arizona, Texas Photographic Society, Noorderlicht Gallery Netherlands, University of New Mexico, Arizona State University, and University of Michigan. In November 2016 Lindsay received a residency fellowship at Turkey Land Cove in Martha's Vineyard.
Jane works for the Lubbock County Private Defender's Office in Lubbock, Texas as a Forensic Case manager and she teaches photography at Southern New Hampshire University. Her art practice explores the notion of race, poverty and justice in the rural culture. janeblindsay.com