A MEASURE OF SALT / Curated by Hikmet Loe
Kimberly Anderson / Christine Baczek, David Baddley / Phyllis Baldino / Shonti Breisch / Sandy Brunvand / Virginia Catherall / The Center for Land Use Interpretation / Erin Coleman-Cruz / Stefani Dykes / Matt Kruback / Colour Maisch / Frank McEntire / Amanda Moore / Alan Nakagawa / Chauncey Secrist / Holly Simonsen / Brian Snapp / Diane Tuft / Ashley Wilson
February 13 - May 23, 2015
A Measure of Salt: Contemporary Artists Engaging Great Salt Lake is a group exhibition of twenty artists from Salt Lake City, New York City, and Los Angeles, each of who finds artistic inspiration in the salt of Utah's inland sea. The lake, no matter where one lives in the state of Utah, is a defining geographical feature, born of the much larger ancient Lake Bonneville. Since the mid-nineteenth century, the state's history, industries, then in the course of time – art – have found commonality in this mineral.
Header image: Experiment 53, Christine Baczek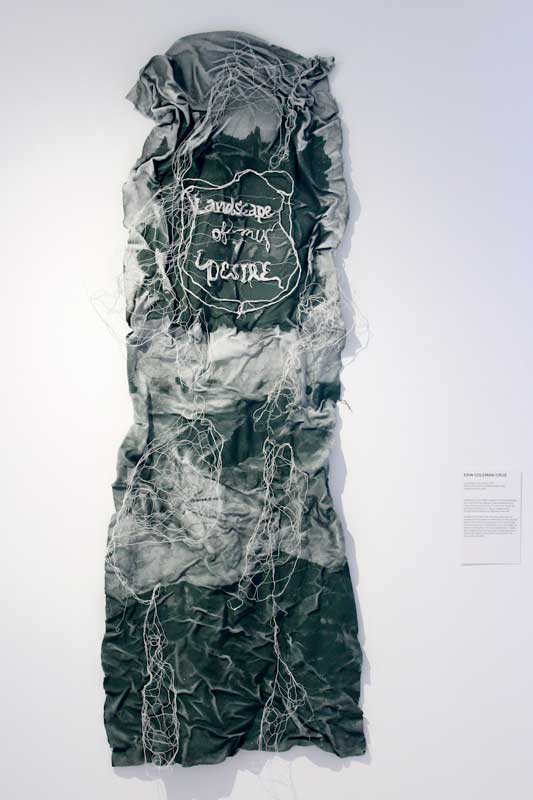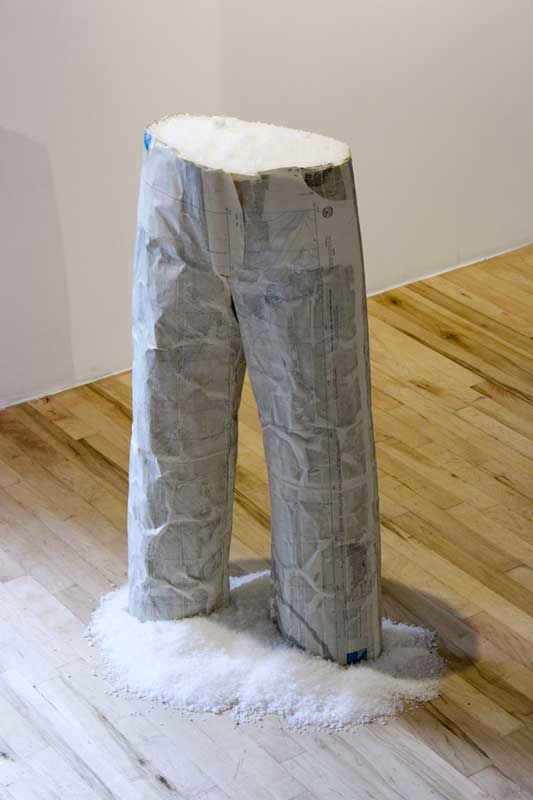 Artists have illustrated and photographed the lake and the myriad ways salt forms at the lake, referencing salt through imagery. In 1970, Robert Smithson created his monumental earthwork Spiral Jetty along the lake's shoreline, positing a new way artistic materials could be defined by using the lake's salt and rocks in his work. More recently, artists have begun to use the lake's salt in their works as an independent medium, expanding upon the idea of mere utility or representation.
Salt is a transformative medium, allowing the essence of the mineral to illuminate substance and subject, heightening the artist's message. Salt is material: it forms composition, it fills void. Salt is a conduit for our emotional lives, expressed through the power of place and the place of tears. A Measure of Salt represents salt through the mediums of photography, video, printmaking, craft, mixed media, installation, and performative action. Measurements of salt dissolve from solid to liquid, forming a new way to fix art, offering new ways to see Great Salt Lake.
About the Curator
Hikmet Sidney Loe teaches art history at Westminster College and for the Venture Program (Utah Humanities) at both Weber State University and Westminster College. She writes for Utah's 15 Bytes and for the online site mappingslc.org. Recent publications include a book chapter on artist Frank McEntire for the book Utah's 15: The State's Most Influential Artists, the exhibition catalog essay for the Mountain Modernism publication NONESITE, and the essay "The Hotel Palenque: Robert Smithson's 1972 Utah Lecture" published in Western Humanities Review, Winter 2014. She lectures frequently on issues related to Land art; her extensive research on Smithson's earthwork Spiral Jetty is forthcoming in book format. www.hikmetsidneyloe.com
About the Artists
Kimberly Anderson / Kimberly Anderson's current work is centered on tying the land to specific stories, legends, memories or myths via long--‐form photographic essays. She looks for specific connections between the individual, their experience and the landscape.
Since 2008 Kimberly has been looking for and finding personal narratives in Utah that involve sightings of the creature commonly known as Bigfoot. She has been working since 1993 on an extended project on Utah's Great Salt Lake and the piece for 'A Measure of Salt' comes from that body of work. www.utahbigfoot.blogspot.com
Anderson has a BA and an MFA from Utah State University, has exhibited widely both nationally and internationally, has work in various collections throughout the intermountain west. She has taught as an adjunct professor at UVU since 2008 and as a full-time lecturer in 2013-14.
Christine Baczek / Christine Baczek has lived in Chile, Italy, Santa Fe and Chicago, but Utah is where she finds the most inspiration for her work. It is a combination of the strong feeling of home she has in Salt Lake City, where she grew up, and the social, political and natural history of Utah. Her work comes out of a fascination with the State—past, present, future—and a desire to make sense of how she fits into it. Her research and practice focus on analog and alternative photographic processes like cyanotype, platinum/palladium, chromoskedasic Sabbatier, film, etc. She uses this expertise in historical photographic processes to explore all aspects of her life including Utah's landscape and history, her immediate community, and her experience working in museums. She is also the Exhibitions Director for the Kimball Art Center in Park City, Utah. www.baczekphotography.com
David Baddley / David Baddley is an artist working with land-based action work, video and photography. He is an Associate Professor of Art/Photography at Westminster College, and lives in Salt Lake City.
David's work has been included in more than 95 group exhibits and 16 solo exhibits, including shows at the Finch Lane Gallery in Salt Lake City, the Center for Fine Art Photography in Fort Collins, and the Salt Lake Art Center. His work has appeared in several publications, including Artweek, Neon Magazine and Leica View.
There are several sites throughout the Salt Lake Valley where salt is kept to spread on roads. David illegally took salt from some of these sites and returned it to its original source, the Great Salt Lake. With this work, titled GESTURE, David examines practices of his culture and takes action to address differences between the values of his community and himself. davidbaddley.com
Phyllis Baldino / Phyllis Baldino engages in a conceptual art practice that merges performance, video, sculpture and installation. With wit and ingenuity, Baldino uses anecdotal conceptual humor and an implied narrativity to question the function and meaning of everyday objects and gestures. Her witty inquiries are often informed by scientific or philosophical principles. (courtesy of Electronic Arts Intermix) www.phyllisbaldino.com
Shonti Breisch / Shonti Breisch was born and raised in Salt Lake City, Utah. She attended Westminster College and received a BFA in Photography with minors in Chemistry and Music in 2011. Shonti has enjoyed all types of media as well as other forms of creative expressions, including modern dance and musical performance with her string bass.
Shonti's primary artistic medium is photography, which offers her a way to share her perspective on the world with others. Fueled by her passion for the sciences and research in biology, she aims her viewfinder mostly at the surrounding micro world and focuses on small elements that many people pass without a second glance. Shonti also explores the interconnections of science and art and strives to demonstrate artistically that neither can exist without the other. www.shontibreisch.com
Sandy Brunvand / Born in Michigan, Sandy Brunvand moved to Salt Lake City in 1982. Sandy is an Assistant Professor (Lecturer) in art education in the Department of Art and Art History, University of Utah. After receiving her MFA in 2003, she co-founded Saltgrass Printmakers, a non-profit printmaking studio and gallery located in Sugarhouse.
Brunvand's artwork incorporates painting, drawing, printmaking, and mixed media. Her work has shown throughout the United States, as well as in Canada, England, New Zealand, Hong Kong, China, Colombia, Palestine, Hungary, and Scotland. Brunvand was recently named one of Utah's 15 most influential artists, Artists of Utah-15BYTES.
As well as making, teaching and viewing art Brunvand also has a passion for playing blues and bluegrass music and hiking in the mountains with her husband Erik, and dog, Scruggs. www.Sandy.Brunvand.com
Virginia Catherall / Virginia Catherall is a museum educator as well as an artist, knitter, and knitwear designer. She has been Curator of Education at the Utah Museum of Fine Arts for the past 20 years teaching families, children, and teachers about art and museums. In her art she is inspired by the incredible, rugged, and sublime landscape in her hometown of Salt Lake City, Utah. She is not only informed by the unique natural history and science of the area but also its rich history. She blogs about her adventures in the deserts and mountains of Utah at lake•salt•knit. lakesaltknit.blogspot.com
The Center for Land Use Interpretation / The Center for Land Use Interpretation, founded in 1994, is a non-profit research and education organization dedicated to the increase and diffusion of knowledge about how the nation's lands are apportioned, utilized, and perceived. www.clui.org
Erin Coleman Cruz / Erin Coleman-Cruz received her MFA in Studio Art from Northern Illinois University and her BA in Art Education from Goshen College. She moved to Salt Lake City, Utah in 2011, where she is a practicing artist, graphic designer, and teacher while chairing the Visual Design program at Broadview Entertainment Arts University.
Both Coleman-Cruz's art-making and design practices range between personal narratives and public collaborative works that address issues such as creative re-use, sustainable design, domestic space, wearable arts, and social issues pertaining to women and gender. She exhibits locally and nationally, and made her international debut in 2011 with an ongoing collaborative performance art piece The Merkeyna Coif Boutique. Recent exhibitions include "35 x 35" in 2013 at Finch Lane Gallery, and the 2014 curatorial project "flesh\RE/flect" at One World Gallery, in Salt Lake City, UT. erincolemancruz.com.
Stefanie Dykes / Stefanie Dykes is a co-founder of Saltgrass Printmakers. Established in 2003, Saltgrass Printmakers is a non-profit printmaking studio and gallery located in Salt Lake City, Utah. In addition to organizing visiting artist residencies, workshops, exhibitions, and portfolios at the press, she has taught a broad range of printmaking classes at the University of Utah, Westminster College. She has been awarded three Artist In Residencies: Anderson Ranch Art Center, Surel's Place and Atelier 6000.
Stefanie Dykes received her MFA from the University of Utah in 2010.Dykes has exhibits nationally, including the Harnett Biennial of American Prints (2015 & 2008), Virginia; Ink & Clay, California, The Contemporary North American Printmakers, Los Angeles, California, 4th Minnesota National Print Biennial, Minneapolis, Minnesota and internationally, Denmark, Egypt, United Kingdom, Hong Kong, Japan, Poland, Portugal, and Scotland. www.stefaniedykes.com
Matt Kruback / Matt Kruback earned his M.F.A. at Arizona State University and his B.F.A. at Colorado State University. A childhood in the Colorado wilderness inspired a love for and complex relationship with nature and the politics of landscape. Fueled by the rich traditions of Western landscape painting, European romanticism, and postmodern bile, his work explores the interstitial ether between dirt, life and immortality.
He exhibits his work locally and nationally in juried solo, group and invitational exhibitions. Recent exhibitions include Drawing Discourse at the University of North Carolina Asheville, Oneironaut at Kayo Gallery in Salt Lake City, and Projections, a solo exhibition at Finch Lane Gallery in Salt Lake City, UT.
Matt Kruback is Chair of the Art Department and Associate Professor of Painting and Drawing at Westminster College in Salt Lake City, UT. www.mattkruback.com
Colour Maisch / Colour Maisch is a mixed media artist and educator based in Salt Lake City, Utah. Colour's artwork is born from her belief that magic is available in the most mundane of things. While she mainly works three dimensionally using clay and other everyday objects like nylon stockings or milkweed, she also creates two-dimensional paintings and videos. Ultimately, it is beauty within the everyday that she seeks to uncover, regardless of the format.
Colour received her Master of Fine Arts degree with an emphasis in ceramics from the University of Utah and is currently the artist in residence at Huntsman Cancer Institute.
Colour shares her life with her husband, Steve, their elderly dog, hank and their cat, tico. They travel and play every chance they get. www.colourmaisch.com
Frank McEntire / Frank McEntire is well known in Utah for his work of the past thirty-plus years as an artist, curator, writer, and arts administrator. His sculpture has been shown widely and found in many collections. He has curated exhibitions for most major museums and art centers in the state. His published reviews of almost a decade as the art critic for The Salt Lake Tribune and Salt Lake Magazine, as well as essays for other magazine, 15 Bytes, and exhibition catalogs, continue to provide insightful perspectives related to visual art trends in the Western region. The University of Utah Press just published Final Light about the painter Doug Snow. And, his service on boards, panels, and task forces, and leadership as the former executive director of the Utah Arts Council, has enhanced the careers of many artists of all disciplines and the overall cultural life of the state. www.frankmcentire.com
Amanda Moore / Amanda Moore is an artist, photographer and teacher living in Salt Lake City, Utah. Originally from Cleveland, Tennessee, she received her B.A. in 1998 in English with a focus on Fiction Writing from the University of Tennessee, Chattanooga. She then worked in a family business for a few years before moving to Atlanta, Georgia. While there, she attended the Art Institute of Atlanta and received her Associates in Photographic Imaging and gained experience working with several commercial photographers in the Atlanta area. She came to Salt Lake City to attend the University of Utah and in 2005 received her M.F.A. in Photography. In 2006, she received an emerging artist grant from the Utah Arts Council. She has had solo shows at the Kimball Art Center, Rose Wagner and the Sundance Film Festival. Her work is represented by Alpine Art in Salt Lake City. www.movingtruewest.com
Alan Nakagawa / Alan Nakagawa has worked primarily in sound and has been creating audience participatory sound experiences for the past decade.
In 2013, Nakagawa was awarded a Cultural Exchange International Grant through the City of Los Angeles Cultural Affairs Department, which allowed him to participate in an Artist in Residency program at the University of Barcelona. Through the University, he was granted permission by the Sagrada Familia, which was designed by Antoni Gaudi, to be the first artist to conduct a field recording of the interior space.
Nakagawa is a recipient of the 2012 California Community Foundation Mid-Career Fellowship. He holds a Bachelors of Fine Arts from Otis Art Institute, a Masters of Fine Arts from the University of California Irvine and is a Monbusho (Ministry of Culture and Education, Japan) Scholar. www.collagecollage.com
Chauncey Secrist / Chauncey Secrist is an American artist, born in Salt Lake City, UT in 1980, who works in a variety of mediums including oil, acrylic, watercolor, ink, collage, and assemblage, and is primarily self-taught. His work has been exhibited in many galleries in Salt Lake City, including Art Access, Patrick Moore Gallery, Contemporary Design & Art Gallery, Palmer's Gallery, Guthrie Studios, and the Springville Museum of Art; and in THAT Gallery in Hong Kong, and the APW Gallery in New York. His style is constantly evolving as he experiments with new mediums, finds inspiration in new places, and delves more deeply into his own psyche, but there are a few constants. One of the most important elements of his work is emotion. Each style and medium that Chauncey works with is used as a means of expressing some emotional state. However, beyond the mere conveyance of emotion, it is a kind of meditation, a mode of introspection. The act of creating becomes a means of exorcising personal demons and trapping them in a tangible form. This analogy of creation and exorcism is especially apparent in his mixed media works, in which religious symbols, primarily Christian, are frequently used. Chauncey still lives and works in Salt Lake City with his daughter. www.facebook.com/ChaunceySecristArtist
Holly Simonsen / Holly Simonsen lives and works in her native Utah landscape, where her work explores the relationship between language and ecologically disrupted environments. Although primarily a poet, her work often migrates off the page into 3D spaces. She earned her MFA from Vermont College of Fine Arts. She was a recent fellow at the Vermont Studio Center and at the Djerassi Resident Artists' Program. www.hsimonsen.com
Brian Snapp / Brian Snapp is Chair of the Department of Art & Art History and an Associate Professor in Ceramics at the University of Utah. He holds a BA in Music from California State University San Francisco and an MFA from California State University Los Angeles. His explorations in art include ceramic sculpture, sculpture, print and installation. His work has been presented at the International Ceramic Editors Conference, Fuping, China, International Forum for Ceramics, China, Macsabal Woodfire Festival, Korea, 54th Premio Faenza: International Ceramic Art Competition, Italy, Feats of Clay XVIII, California, Rocky Mountain Biennial, Colorado and CEBIKO 2nd World Ceramic Biennale, Korea. He has also presented lectures and workshops in Italy, Korea, China, California, Utah and New Zealand. Publications include Serious Play: Clay and the Plastic Brain, for the International Ceramic Editors Conference, and Mapping, for Scope: Contemporary Research Topics, Dunedin, New Zealand. www.art.utah.edu/galleries/faculty/brian-snapp/
Diane Tuft / Diane Tuft is a mixed media artist who has focused primarily on photography since 1998. She earned a degree in mathematics at the University of Connecticut before continuing her studies in art at Pratt Institute, New York. She has always been fascinated by the mystery of what exists beyond the visible; and capturing this through her camera has been a guiding principle of her work.
In 2012, Tuft was awarded a National Science Foundation Artist and Writers grant to continue her exploration of light beyond the visible spectrum in Antarctica.
Tuft 's installation, "Internal Reflection", was exhibited at the Katonah Museum of Art in New York and at Art L.A. in Santa Monica, California. The exhibit was a combination of photography, sculpture, light and sound that explored the resonance between reflection of image and refraction of light. In 2008, Tuft was commissioned to photograph turn-of-the-century bank vaults throughout New York City. Through her use of infrared film, Tuft produced images for "Safely Hidden" that were at once delicate and bold.
Tuft has had solo exhibitions at Marlborough Gallery, Ameringer-Yohe Gallery and Pace Gallery, New York City, and The Kimball Art Center in Park City, Utah. Her work has been included in many museums throughout the country. Tuft's work can be found in the permanent collection of the Whitney Museum of American Art and the International Center of Photography in New York City, and the Parrish Art Museum in Water Mill NY, as well as numerous private collections. Tuft lives and works in New York City. www.dianetuft.com
Ashley Wilson / Ashley Wilson was born and raised in Utah, where she currently resides. She has a love for nature and the surrounding landscapes. She also loves architecture that do not fit within a traditional landscape. The landscape is what drives her art, it allows for contemplation and exploration. www.ashleywilsonwall.com